Dozens of Legal Scholars Demand Term Limits for Supreme Court Justices
Former U.S. Senator Ted Kaufman, Harvard's Laurence Tribe and Larry Lessig among scores of legal scholars urging reform in letter to members of Congress, 2020 candidates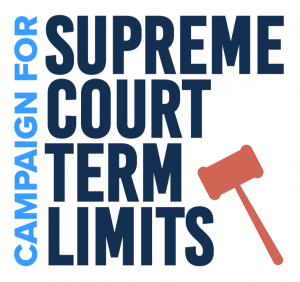 Washington — Fix the Court announced today that more than 60 legal scholars from across the ideological spectrum are calling for an end to life tenure at the U.S. Supreme Court. The letter, which has been sent to the House and Senate Judiciary Committee leadership and all 2020 presidential candidates, also marks the launch of the Campaign for Supreme Court Term Limits.
"At a time when Americans are collectively acknowledging how unprecedentedly partisan the court has become, voters are demanding solutions that will restore faith in the judiciary," said Gabe Roth, executive director of Fix the Court."Ending life tenure at the Supreme Court is a commonsense solution that legal scholars of all ideological persuasions are getting behind, and it's something we should seriously consider as a nation."
The letter was signed by 63 thought leaders, including former U.S. Senator Ted Kaufman, Norm Ornstein of the American Enterprise Institute, Yale Law's Bruce Ackerman, Harvard Law's Laurence Tribe and Larry Lessig, Berkeley Law's Erwin Chemerinsky, Columbia Law's Jamal Greene, Miami Law's Mary Anne Franks, NYU Law's Stephen Gillers and Northwestern Pritzker Law's Steven Lubet. The signers are united in their belief that life tenure has created a set of ignoble incentives during the confirmation process amid a backdrop of credibility-damaging polarization at the high court. It reads:
"There is no easy way to move us out of this dynamic, but it has become clear to us that a strong step in the right direction would be to revisit life tenure at the Supreme Court.

We choose not to endorse any particular plan here, so long as terms are sufficiently long to maintain judicial independence. But we believe that continuing to concentrate power in the hands of a few individuals, who sit for many decades with almost no oversight and little incentive to compromise, is no longer good public policy, if it ever was. A court seen by most Americans as a political actor, whose very legitimacy is routinely questioned, and whose appointment process has devolved into farce, is in need of fixing."
The letter was issued amid a presidential primary season that has seen growing scrutiny on the Supreme Court and demands for reform. More than three in four likely voters favor limiting the terms justices serve, according to recent Fix the Court polling. It's an idea that even a sitting justice has endorsed; Stephen Breyer reiterated his support for term limits in May. And as the Los Angeles Times Editorial Board wrote recently, "Fixed terms would have the additional advantage, proponents say, of lowering the political stakes of any single appointment to the court. It's an idea worth studying."
Legal scholars stand up for ending life tenure:
Upon the release of the letter, legal experts and letter signatories issued the following statements.
Ted Kaufman, former U.S. Senator, D-Del.; former Professor of the Practice, Duke University Law School: "It would be a positive change if presidents stopped appointing young justices just so they may serve lengthy terms on the Supreme Court. And it is not wise to have major issues that may require new approaches left in the hands of justices who have lived in the cloistered life of the court for decades. That is why I am in favor of limiting justices' tenures."

Norm Ornstein, Resident Scholar, American Enterprise Institute:  "If we could combine term limits for justices with a sensitivity by presidents to find nominees who actually understand the real world of politics and life, and not just the cloistered one of the bench, we might get somewhere."

Joan Steinman, Distinguished Professor of Law Emerita, Illinois Institute of Technology Chicago-Kent College of Law: "Term limits would remove the unabashed partisanship of the current Supreme Court confirmation process by creating a fair and regular system for appointments."

Richard Kay, Wallace Stevens Professor of Law Emeritus, University of Connecticut School of Law: "The fact that almost no other constitutional courts in the world have adopted the American model of life tenure shows that there are many other and better ways to assure judicial independence."
The Campaign for Supreme Court Term Limits:
Led by Fix the Court, the Campaign for Supreme Court Term Limits will advocate for ending life tenure and instituting term limits for future Supreme Court justices. Fix the Court's latest campaign is geared toward education and activism, demonstrating both the need for this reform and how a consensus on it may be reached, while offering Americans ways to get involved.
Monday's letter – sent to the House and Senate Judiciary Committee leadership as well as each of the 2020 campaigns – and website launch mark the first steps of the Campaign. In recent months, Hill staff has increasingly reached out to Fix the Court for views on how a term limits law could be crafted, an effort that will remain a key part of the Campaign.
As with the letter, the Campaign will include additional opportunities for leading thinkers to come together around these ideas, and the Campaign will also engage in opinion research, such as the recently-published PSB poll.
Seventy-seven percent of voters support term limits:
As mentioned, that survey shows that more than three in four likely voters (77% support vs. 23% oppose) support ending life tenure for Supreme Court justices. That's in stark contrast to the limited support for adding justices to the Supreme Court, also known as court packing. Even among self-identified Democrats, 18-year term limits were preferred to adding additional justices to counterbalance those picked by President Trump (33% prefer term limits vs. 21% prefer adding justices). 
Legislators are considering policies to end life tenure at SCOTUS. Four notable examples include Sens. Kamala Harris, Cory Booker, Chris Coons and John Kennedy, who sit on the Senate Judiciary Committee. They're joined by Sens. Bernie Sanders, Kirsten Gillibrand and Michael Bennet. The ever-straightforward former Judiciary chairman, Chuck Grassley, put it bluntly in 2015: "Lifetime judicial appointments aren't perfect."
Additional background:
The U.S. Constitution stipulates that a judge may remain on the federal judiciary "during good behavior." However, it does not enumerate that it must be on the Supreme Court. Therefore, legal scholars argue that giving justices the option to return to a circuit court or occupy a new role as senior justice at the end of their term is well within the bounds of the Constitution and could be enacted legislatively.
To the court's most urgent challenges, term limits can be seen as a thoughtful, bipartisan solution. A single, standard 18-year term at the high court – whereby a new justice is appointed to the court and one rolls off every two years – would restore limits to the most powerful, least accountable part of our government. It would increase the rotation of justices serving, compel comprise and broaden the pool of potential nominees – outcomes that would have a positive impact no matter where one sits on the political spectrum.